Teachers
We provide educated, nurturing teachers who are held to high standards of performance in all of our classrooms. Our teachers organize their classrooms based on the individual children. Many of our teachers have children of their own, and understand how important it is to develop a strong connection to our children and their parents.
Although all of your teachers have backgrounds in education and experience caring and developing children, we have our own set of expectations. To that end, we have developed a proprietary screening and training process to screen and certify all of our teachers.
When a potential staff member interviews with us we ask for certifications, trainings, copies of their degree(s) and reference letters from previous employers and/or parents. If we are interested in a interviewee, we ask them to conduct a working interview so we can view them with our current staff and children. We look for interaction, personality (not dull, talking to the children, happy), willingness to learn the daily routine, kindness, etc.
If the potential staff member successfully completes their working interview then we welcome them to our Happy Faces family. At the time of hire we inform the new staff member that they are on a three month probation period- this means for any reason we may let them go if they are not performing accordingly. We want our teachers to feel comfortable as well as the children. Everyone has to fit well together and be a team player.
Corporate daycare facilities do not always make sure their staff are a perfect fit for their center. They put the teacher in a classroom and as long as enrollment is high, believe the teacher must be doing their job correctly even if they are not. With HF being a personal business, management is able to see what happens in all of the rooms throughout the day and spends time with each classroom/teachers to make sure all work and activities are appropriate and being completed as needed. Management is also able to make sure all of the children are being taken care of professionally and in a loving/nurturing manner.
Program Director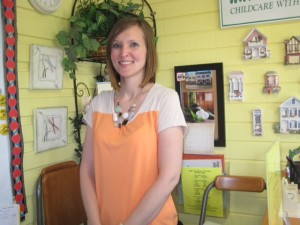 Jessica Roberts, our Director of Happy Faces, has been in the education field for over 13 years. She comes to Happy Faces with a Bachelor of Arts Degree in Integrative Studies with a Concentration in Early Childhood Education from George Mason University. Mrs. Jessica has taught pre-school in both Virginia and California and comes to us with a wealth of knowledge and experience. Mrs. Jessica enjoys teaching the children American Sign Language and planning fun craft projects for holiday's and our annual art show.
Jessica understands how important the relationship between management, staff, parents, and children are. Everyone needs to feel comfortable, safe, and loved while receiving the best, first educational experiences of their young lives.
Jessica has chosen to keep her career in preschool because she loves how eager each child is to learn and retain new information each day. With a passion for art and creative expression, Jessica loves to see the children happy and engaged in all activities presented to them throughout the day.
Jessica believes in open parent communication and is always available to talk to. Parents can rest assured that their children are in excellent hands as Jessica makes sure of this each day she comes to school.
In addition to her formal education, Jessica is also First Aid and CPR certified. She also has earned her MAT (Medication Administrative Training).